SAM 4.0: Kaeser Sigma Air Manager in step with Industry 4.0
The next generation of compressed air management systems is present and already available for our Ci.A.Gi technicians. - KP, who already master Sigma Air Manager 4.0 (former SAM 2) with 3-D advanced control to make the air creation and treatment even smarter, more reliable and more efficient.
The 3-D advanced interrogation and control analysis study all operational data on a continuous basis, simulating alternative actions and calculating the perfect combination of compression and drying workloads. The result? An energy efficiency never seen before.
Keep an overview of the performance at any time thanks to ease of use, viewing and analysis from any PC, thanks to the connection network. The analysis is possible both from internal PCs to the company that, with the permission of the customer, from remote PCs such as Ci.A.Gi. - KP, who will be able to constantly monitor the station and be always and immediately beside the customer.
The predictive maintenance of Ci.A.Gi - KP specialists prevents unplanned downtime.
Whatever the projects for the future of the company, the S.A.M. 4.0 is designed to grow in step with your compressed air requirements. A simple upgrade of the software allows the expansion of the control system without the need for additional investments in new hardware.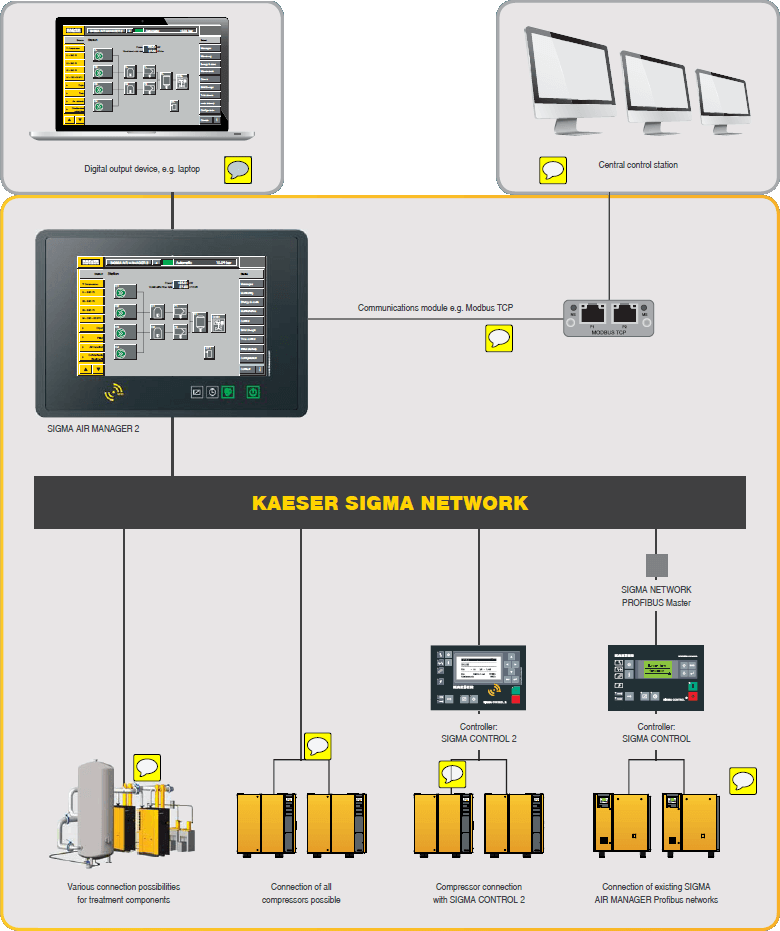 THE FEATURES OF S.A.M. 4.0
SMART
Sigma Air Manager 4.0 not only registers compressed air consumption and its variations, but all factors affecting the compressed air station. It then uses the information collected to calculate the best performance values ​​and therefore it controls all connected components.
RELIABLE
Together, Sigma Air Manager 4.0 and the powerful Ethernet Kaeser Sigma Network form a dynamic infrastructure that meets all the requirements for a highly secure industrial control system.
EFFICIENT
A continuous adjustment, in order to achieve the best energy efficiency (energy management according to ISO 50001), together with the possibility of a scheduled maintenance as needed, reduce the maintenance costs of the life cycle to the minimum levels.
ADVANTAGES OF S.A.M. 4.0
Maximum efficiency
Constant and continuous monitoring
Adaptive for any variation in consumption
Costs under control
Reduced maintenance costs
Online query thanks to the link network
Ci.A.Gi. Compressori and Kaeser are ready to welcome you into the compressed air industry 4.0, providing you with a trusted, efficient and up-to-date compressed air station.